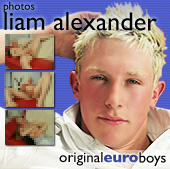 I recently googled my name just to see if my site was getting any kind of ranking…  ok, it was pure vanity; why else does anyone really google their own name?  As a result of my search I discovered that I share my name with the guy in the photograph on a site called 'originaleuroboys'; a gay porn service; quite a surprise.
I am at pains to point out that this Liam and myself are NOT the same person, not that there's anything wrong with that… some of my best friends… um err…
I'm not even sure that this Liam is a real person either; quite likely he was dreamed up by two guys fantasizing on the phone.  If Euroboy Liam is out there, by all means feel free to get in touch; I'm sure we'd have quite a lot to talk about.
Tags: google your name, liam alexander, Search Engines, Searching, Tools