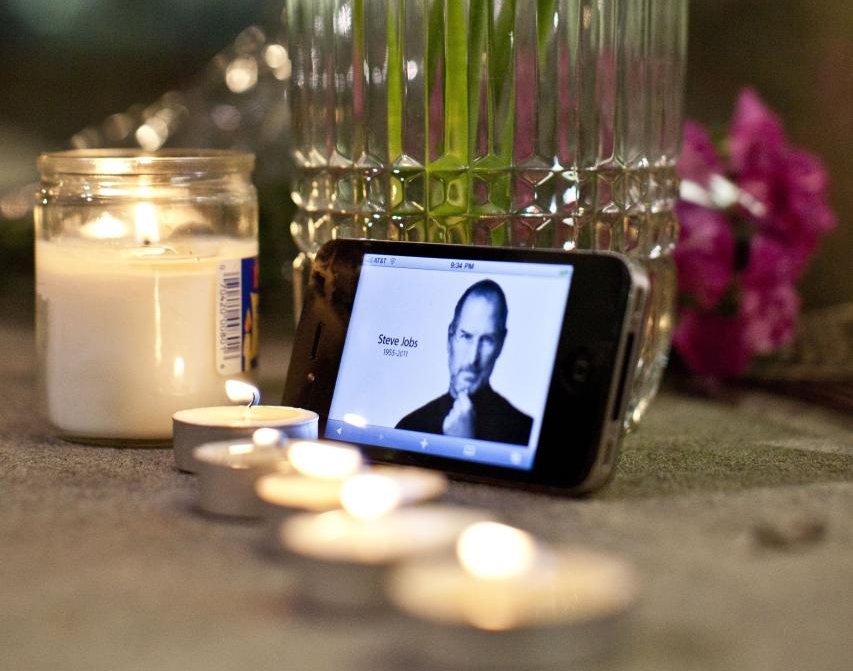 Isn't the recent outpouring of emotion over the passing of Steve Jobs taking things just a little too far?  Midnight vigils at Apple stores?  Shrines? Millions of tweets, blogs, articles conferring almost saint like status on the ex Apple CEO?  Steve jobs certainly was a visionary.  Yes, he had some wonderful ideas but contrary to popular belief products such as the iPod, the iPhone and the iPad, while they may have transformed the consumer electronics market are not likely to solve world hunger, the energy crisis, the GFC, climate change or terrorism and wars.
Steve Jobs the man was apparently arrogant, selfish and inconsiderate.   While these attributes may well have helped him to find his path to success they would have been hardly likely to be endearing  to those that knew Jobs personally.  Apparently Jobs approached working relationships with a similar attitude, setting very high standards and regularly reducing to tears those who fell short of his vision. (more…)
Tags: Apple, Bill Gates, IPad, IPhone, iPod, iShrine, shrine, Steve, Steve Jobs, Xerox Alto
Recently, the well known columnist and blogger Andrew Bolt was found to have breached the Racial Discrimination Act.  Justice Mordy Bromberg found Bolt and the Herald and Weekly Times contravened the Racial Discrimination Act by publishing two articles on racial identity which contained "errors in fact, distortions of the truth and inflammatory and provocative language", reported the Herald Sun.
Ron Merkel, QC, for the complainants, said there was no attempt by  members of the group to shut down freedom of speech or debate about racial identity issues.  Mr Merkel said Bolt was free to express his views on the subject but should not have chosen to attack the nine individuals he named in his columns and blog.
Many of us, including myself, may not agree with Andrew Bolt's views on this issue and many others.  Whatever happened to the famous saying, sometimes incorrectly attributed to Voltaire which many in the legal profession are fond of quoting: " I disapprove of what you say, but I will defend to the death your right to say it. "
Yes, there are a number of errors in Bolt' articles on this topic.  Is Bolt being prosecuted for publishing errors?  It is true that had the facts been presented accurately Bolt's arguments would not hold much water.  For example, he questioned indigenous lawyer Larissa Behrendt's Aboriginality, incorrectly stating that her father was German and that she is somehow claiming benefits that should be the right of indigenous people of 'purer blood'. In the sometimes heated court exchanges, Bolt took exception to the prosecution's comparison of the debate and Bolt's views to Nazi race laws, the Holocaust and eugenics.  Bolt argued those who chose to identify with only one part of their background over another were contributing to racism and came at the cost of less focus on the important issues of education, housing, health and poverty.
It is interesting to note that earlier in the year, Larissa Berendt attracted criticism after using her Twitter account to describe watching bestiality on television as "less offensive than Bess Price", an Aboriginal woman in favour of the radical Northern Territory intervention. "I watched a show where a guy had sex with a horse and I'm sure it was less offensive than Bess Price." (more…)
Tags: Andrew Bolt, freedom of speech, Larissa Behrendt, Racial Discrimination Act 1975
The vast majority of internet users are lurkers; passive users who never generate any content, never participate in discussions, never post comments.  This to some degree explains the extraordinary success of Facebook.  The ubiquitous Facebook 'like button' allows passive users to interact with online content with a simple click; you don't need to comment, you don't need to exercise your brain at all.  Perhaps it also why social media platforms such as MySpace have been less successful.  You can customise MySpace profiles a great deal more than you can with a Facebook profile, especially if you're comfortable using a little html, but you really need to post some content to get anything out of it.  The simple fact is, most people just aren't interested in how their profile pages appear.  Posting the odd trivial message, clicking 'likes' and playing games like 'Farmville' is a rewarding social media experience for many. Just what is wrong with that?! I hear you ask with a rising tone of indignation and outrage.
Tags: Advertising, Facebook, FarmVille, lurker, MySpace, Online Communities, passive, Sheep, Social media, Social network